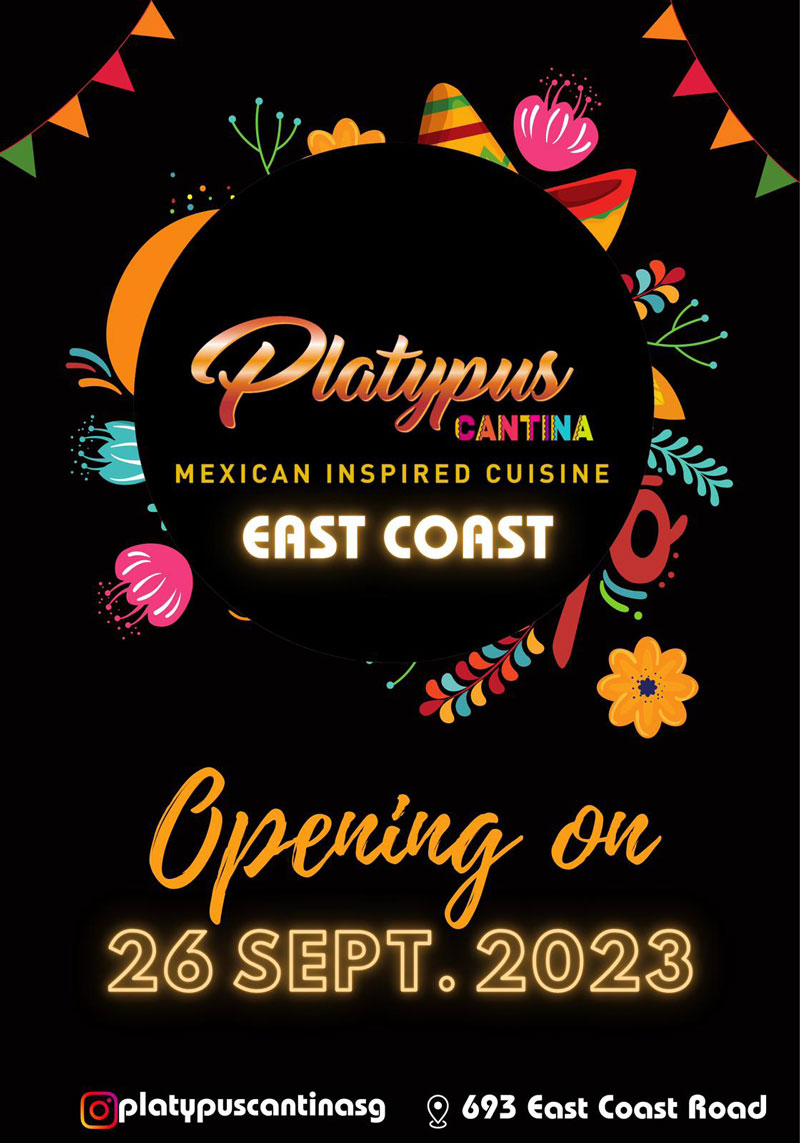 Exciting news! 🎉
🌮 Platypus Cantina is thrilled to announce the opening of our new outlet at East Coast! We want to express our heartfelt appreciation to all our wonderful customers for their patience and unwavering support. Join us in celebrating this delicious journey together! 🥳🌶
Opening Date: 26 September 2023
Location: 693 East Coast Rd, Singapore 459058
Follow us on Instagram @platypuscantinasg for more updates! See you soon 🤩👋
Where Every Bite is a Fiesta, & Every Drink is a Celebration!
Are you craving something spicy, delicious, and oh-so-satisfying? Look no further, amigos! Platypus Cantina is here to bring you the best of Mexican-inspired cuisine in a fun and colourful setting. From our killer margaritas and micheladas, to our hearty tacos and Mexican fares, we've got all your cravings covered. Plus, with our wallet-friendly cocktail, beer, and wine program, you'll be able to indulge without breaking a sweat. But we're not just about the food and drinks – it's about the whole experience at Platypus Cantina. We're on a mission to bring the neighbourhood the best Mexican-inspired food & drinks experience ever.
A Vibrant & Beautiful Venue
Step into our beautiful venue and be transported to a colourful Mexican-inspired paradise. With different seating zones, including an alfresco area, you'll find the perfect spot to enjoy your meal. Whether you're here for a casual brunch with friends, a business lunch with colleagues, or a festive dinner with family, we've got the perfect setting for you.
Platypus Cantina is also the perfect place to celebrate life's special moments – from birthday parties and networking events to company gatherings and private events. We can accommodate couples, small groups, and large groups, so no matter the occasion, we've got the perfect spot for you.
Delicious Food, Signature Cocktails & Happy Hours
We pride ourselves on offering some of the best food and drinks in town. Our menu is filled with mouth-watering options, from our famous tacos to our signature cocktails. And, with our Happy Hours happening every Monday to Friday, you can always enjoy a great deal on your favourite drinks.
If you're looking for a great place to brunch on the weekends, we've got you covered. Our weekend brunch specials are a hit with locals and visitors alike. And for those who prefer to brunch during the week, we have weekday specials too.
And let's not forget about our amazing cocktail program. Our bartenders are experts in creating delicious and unique drinks that will make your taste buds dance.
Discover Our Daily Specials
But that's not all – we also have daily special promotions, from Tacos Tuesdays to Thirsty Thursdays, there's always something new to discover at Platypus Cantina. And for those who want to enjoy our delicious food from the comfort of their own home, we offer takeaways too.
So come on down to Platypus Cantina and experience a fiesta of flavours and fun. Salud!
Great Reviews! Thanks to our Raving Amigos!
JOIN US for
a Fiesta of Flavours & Fun!
Ready to add some sizzle and spice to your dining plans? Book your table at Platypus Cantina now and get ready for a fiesta of flavours and fun! Whether you're looking for a romantic date night, a family dinner, or a night out with friends, we've got you covered. So, don't hesitate amigos, make your reservation today and join us for an unforgettable dining experience. Hasta pronto!